April Warnings
April Warnings is a collection of short stories that can be read together as one. The narratives are bound by the strange Midwestern ritual of going into an underground tornado shelter and a growing mythology about a particular plot of land on the railroad tracks of the Callahan Ranch in Baxter County. Farms, highways, and churches become the epicenter for truths, fictions, and myths rooted in larger ideas from the so-called "American Heartland," a place belonging to indigenous populations, immigration routes, and beliefs about worlds that exist beyond the prairie.
PRAISE FOR APRIL WARNINGS
Mark Pleiss' April Warnings is a revelation of rural life. The spirit of the Midwest and its people inhabit these connected stories like minerals in soil: subtle and vital. Tornadoes and livestock, farmers and worry, faith and cost: these are the building blocks of this part of the world. It's a place that too many people call 'flyover country,' but that Pleiss' fiction invites us into, to put up our feet and stay a while. You'll want to do just that.
—Teague von Bohlen, Fiction Editor, Copper Nickel and author of The Pull of the Earth and Flatland
The interconnecting stories in Mark Pleiss' April Warnings reflect the best qualities of the oral tradition and, in particular, of fantastic tales and parables. Gentle, revealing humor emerges naturally in the surprising plot elements uncannily related to the warping of time that occurs after, during, and just before tornadoes. Engaging wisdom about the slippery nature of 'truth' marks every page, and, in fact, the characters' fates are often decided by fictions that ring 'true,' magically true.
—Kevin McIlvoy, At the Gate of All Wonder, 57 Octaves Below Middle C, The Complete History of New Mexico, and other works of fiction.
ABOUT THE AUTHOR
Mark Pleiss is a writer in Denver. He publishes fiction, book reviews, scholarly criticism, and essays, and his work has appeared in Tupelo Quarterly, Colorado Review, The Omaha Pulp, Sequel, Fine Lines, Palimpsest, The Chronicle of Higher Education, The Denver Post, and elsewhere. He worked as a freelance journalist for The Omaha World-Herald and The Des Moines Register before completing a doctorate in Spanish Literature and teaching at St. Olaf College, CU Boulder, and Metro State University Denver. He is from Omaha, Nebraska.
Mark Pleiss' website: markpleiss.com
How to Know the Flowers
How to Know the Flowers by Jessica Smith is a poetry collection about processes: The process of naturally dyeing flowers, the process of dealing with trauma, the process of remembering. In her poems, Smith examines sexual harassment, female friendship, and grief, accepting the gaps and fragments that unavoidably occur while doing such work.
PRAISE FOR HOW TO KNOW THE FLOWERS
And here is the landscape of trauma petaled with knowing and unknowing, the delicate architecture between what rises to the surface and what keeps beneath the soil. The poems' handling of sexual abuse is the taproot from which springs an invulnerability as they navigate from: "heal this loss please" to "I didn't want to know / my failure." Smith accurately draws the line between the threat to safety across borders of home, work, and country; and how these are not only interconnected but also quietly eroding at a rapid pace. Smith's poems scatter across the page leaning into the dream work tapestry of: "I teach myself new things / to get to a new self" and this is how grief shapes us. How to Know the Flowers is the language of survive.
—Megan Burns, author of Basic Programming
ABOUT THE AUTHOR
Jessica Smith, Founding Editor of Foursquare and name magazines and Coven Press, teaches at the University of Alabama at Birmingham and curates the Treehouse Reading Series at Vestavia Hills Library in the Forest. She received her B.A. in English and Comparative Literature: Language Theory, M.A. in Comparative Literature, and M.L.S. from SUNY Buffalo, where she participated in the Poetics Program; she is now pursuing her M.F.A. in Creative Writing at Miami University (OH). She is the author of numerous chapbooks including Trauma Mouth (Dusie 2015) and The Lover is Absent (above/ground press, 2017), and two full-length books of poetry, Organic Furniture Cellar (Outside Voices 2006) and Life-List (Chax Press 2015).
Jessica Smith's website: jessicassmith.myportfolio.com
Cover image by Jessica Smith
Body of Work
Tina Cane's new collection of poems, Body of Work, fuses the personal and the political as it explores the nature of work, poetry, economics, and motherhood. Body of Work is a meditation on memory and change: the changing landscape of the inner and outer life, of family and city, and the nature of personal and cultural identity. Cane reflects upon the "continual mysteries" of her Chinese-American heritage and the complexities of being a person in the world with others.
PRAISE FOR BODY OF WORK
In this innovative and searing new collection, Tina Cane writes of memories amassed "like money banked beneath a mattress." The result is a landscape of lyrical fragments and potent images that combine and recombine as the book progresses, with the poems weaving expertly through domesticity, motherhood, Chinese-American identity, and the city present and past. With stealth and insight, Body of Work takes us to places unforeseen, urgent, and essential.
—Natalie Schapero, author of Hard Child
ABOUT THE POET
Tina Cane is the author of the poetry collections Body of Work (Veliz Books, 2019) and Once More with Feeling (Veliz Books, 2017), as well as the chapbooks Dear Elena: Letters for Elena Ferrante (Skillman Avenue Press, 2016) and The Fifth Thought (Other Painters Press, 2008). Cane was born in Hell's Kitchen, NYC. She attended the University of Vermont, the Sorbonne and completed her master's degree in French Literature at the University of Paris IX-Nanterre. She is the founder and director of Writers-in-the-Schools, RI. Over the past twenty years, Cane has taught French, English, and creative writing in public and private schools throughout New York City and Rhode Island. Cane's poems and translations have appeared in numerous journals including Spinning Jenny, Tupelo Quarterly, Cargo, Two Serious Ladies, The Birmingham Review and The Good Men Project. Cane was the 2016 recipient for the Fellowship Merit Award in Poetry from the Rhode Island State Council on the Arts. She is the Poet Laureate of Rhode Island.
Tina Cane's website: tinacane.ink
Cover image by
Alberto Giacometti, "Tête de cheval," 1951
Black Wings
Spanning two continents, Black Wings is the story of Laila and Yasmeen, a mother and daughter, struggling to meet across the generations, cultures, and secrets that separate them. Their shared grief, as well as the common bond of unhappiness in their marriages, allows them to reconnect after seventeen years of frustration, anger and misunderstandings.
PRAISE FOR BLACK WINGS
Black Wings peels back layers of home and belonging, exploring what it means to be family from different worlds bound by shared secrets. Sehba Sarwar reveals the importance of stories, masterfully weaving the past with the present and Houston with Pakistan, in a narrative filled with love which offers us a glimpse into our shared—humanity.—Sorayya Khan, author of City of Spies
ABOUT THE AUTHOR
Sehba Sarwar creates essays, stories, poems, and art that tackle displacement, migration, and women's issues. Her writings have appeared in publications including New York Times Sunday Magazine, Asia: Magazine of Asian Literature, Callaloo and elsewhere. Her novel, Black Wings, was first published in 2004 by Alhamra Publishing (Pakistan). Born and raised in Karachi, Pakistan in a home filled with artists and activists, Sarwar is currently based in Southern California where she lives with her husband and daughter.
To learn more about Sehba Sarwar and her work, please visit her website sehbasarwar.com
Cover drawings by Minal Saldivar
Collage design by Oskar Sonnen
Ready, Set, Go
Ready, Set, Go is Ana Patete's translation of Prontos, listos, ya (2010, Puntocero), a novella written by the Uruguayan author and screenwriter Inés Bortagaray. It chronicles the inner meditations and sporadic external interactions of a young girl in the backseat of a car on her way to a beach town with her family. The story is told in first person and oscillates between the girl's precocious observations about life, death, family, Catholicism and love whilst balancing her tender and, at times, hilarious naiveté.
PRAISE FOR READY, SET, GO
An original and dazzling road novel that invites us, alongside its protagonist, to traverse the imagination's landscape, the language of dreams, and the rituals of childhood. Everything in it, beginning with the journey itself, is an entrance to another astonishing trajectory, the constant flow of verbal intuition: that which opens itself up naturally to the children's gaze, and that, with the passing of time (that other journey), some of us achieve preserving in our adult intimacy. In her aesthetic discoveries, Inés Bortagaray has best conserved the narrative tradition of Felisberto Hernández and Mario Levrero, rigorous in its inquisitiveness, its ludic strength, and its rich and inimitable strangeness.
– Carlos Yushimito, author of Lecciones para un niño que llega tarde (Lessons for a Child Who Arrives Late)
ABOUT THE AUTHOR
Inés Bortagaray (1975, Salto, Uruguay) is a writer and screenwriter. She published Ahora tendré que matarte (a Flexes Terpines collection, directed by Mario Levrero), and Prontos, listos, ya (Ready, Set, Go) (translated into Portuguese by Cosac Naify). Some of her stories and non-fiction work has appeared in Bogotá Contada (Libro al Viento, Colombia); Pequeñas resistencias 3, una antología del nuevo cuento sudamericano (Páginas de Espuma); Número Cero, el perro, and Zoetrope: All Story, among other journals and anthologies. Other stories by Bortagaray have also appeared in projects such as Suelta, Los Noveles, Nuestra aparente rendición, Palabras errantes: Latin American Literature in Translation, Altaïr, and El futuro no es nuestro.
Bortagaray has worked as a film screenwriter for directors from Uruguay, Argentina, and Brazil. She obtained the Special Jury Prize at the 2016 Sundance Festival for her screenplay of Ana Katz's Mi amiga del parque (My Friend from the Park).
ABOUT THE TRANSLATOR
Ana Patete was born and raised in New York City, having moved to Puerto Rico in her adolescence. She attended Brown University, where she received a BA in Hispanic Studies. She has spent time in Argentina and Uruguay, where she unearthed her zeal for literary translation and medialunas.
Cover image by Gerardo Cedeño Garza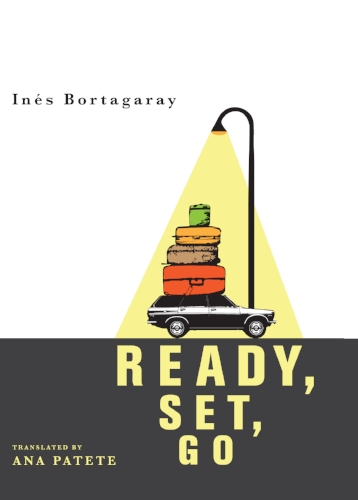 History of Gone
History of Gone is a collection of poems inspired by the life and unsolved disappearance of Barbara Newhall Follett, a once-famous child prodigy writer of the early 20th century.
PRAISE FOR HISTORY OF GONE
"A daring conceptual feat of reanimated biography, History of Gone arrives in its forms of oblique memorial drenched in lyric imagination: "Everywhere you look there's a finger bone of some gone woman." Schmeidler's rich lexicons frame intimate interior geographies—swoop and silhouette, beatitude and gingerbread, planets and wolfhounds—all the while replaying the "stolen reel" of a forgotten life. As the lavish particulars unfold—a mouthbrooder, an anhinga, a purse dehisced—these poems invite charged questions about autonomy, creativity, and self-effacement: "What kind of play is she in, 'finished by a death' or 'ended by a marriage'?" A cautionary tale of the erasures of domesticity, a vocational fable, an inside-out bildungsroman, this book envisions the prismatic possibilities when the self makes a "clean sneak," and the result is nothing short of levitation."
—BK Fischer, author of Radioapocrypha
ABOUT THE POET
Lynn Schmeidler is a poet and fiction writer. Her first chapbook, Curiouser & Curiouser, won the 2013 Grayson Books Chapbook Contest. Her second chapbook, Wrack Lines (Grayson Books), was a finalist for both The Jessie Bryce Niles Chapbook Contest and the Two Sylvias Press Chapbook Prize. Her work has appeared in journals such as The Awl, Barrow Street, Boston Review, Fence, The Georgia Review and The Southern Review, as well as in anthologies such as Transition: Poems in the Aftermath (Indolent Books); Mischief, Caprice and Other Poetic Strategies(Red Hen Press); Bared (Les Femmes Folles Books); and Nasty Women's Poetry Anthology: An Unapologetic Anthology of Subversive Verse (Lost Horse Press). She is a Pushcart Prize nominee in fiction. Educated at Yale University, Lynn lives in Westchester County, NY where she writes and teaches. History of Gone is her first book.
Lynn Schmeidler's website: Lynnschmeidler.com
Cover image by Kate Schmeidler
The Ghetto
The Ghetto, Seth Michelson's translation of Tamara Kamenszain's El ghetto is a poetry collection that reveals a speaker living in a liminal space, typical of exiles and migrants, where various languages, cultures, and identities are in constant dialog.
PRAISE FOR THE GHETTO
The poems in Tamara Kamenszain's book The Ghetto breathe and live boldly and beautifully in Seth Michelson's spot-on translations. Written in Spanish, with the ghosts of Hebrew and Yiddish never far in the background, these poems cast a discerning eye toward the meaning of words such as "ghetto," "exile," and "ancestors" in a world of borders, edges, and death. Yet, as in the poetry of Paul Celan, one of the guiding spirits of this book, what is beautiful is never fully abandoned. "Today in the crowns of the trees all my roots flower," she writes in the poem "Tree of Life," offering vision and salvation from within the landscape of a Jewish cemetery in Buenos Aires. Thanks to Seth Michelson, this book is now a marvelous and significant contribution to English language as well as Argentinean verse.
--Gail Wronsky, translator of Flowering Fires/Fuegos Florales by Alicia Partnoy
ABOUT THE AUTHOR
Tamara Kamenszain is the author of ten full-length books of original poetry, beginning with De este lado del Mediterráneo (l973) and including most recently El libro de los divanes (2014). She has also published four scholarly books about poetry. To date, her poetry has been translated into Portuguese, Italian, German, and English, and it can be found in anthologies around the world. Her many prizes include a Guggenheim Fellowship in poetry, a Pablo Neruda Medal of Honor from the President of Chile, two Konex prizes for poetry, a Premio Honorífico José Lezama Lima from the Casa de las Américas in Cuba, and Book of the Year from the Buenos Aires Book Fair for her complete works of poetry (to date): La novela de la poesía.
ABOUT THE TRANSLATOR
Seth Michelson is an award-winning poet, translator, and professor. He has published thirteen books of poetry and poetry in translation. His books of original poetry include Swimming Through Fire (2017) and Eyes Like Broken Windows (2012). Recent translations include The Red Song (2017; Melisa Machado, Uruguay) and Poems from the Disaster (2016; Zulema Moret, Argentina). He also edited and translated the anthology Dreaming America: Voices of Undocumented Youth in Maximum-Security Detention (2017), after leading poetry workshops for two years in the most restrictive maximum-security detention center in the U.S. for undocumented, unaccompanied youth. He teaches the poetry of the Americas at Washington and Lee University.
Cover image by Tano
Once More with Feeling
Once More with Feeling is a collection of poems that takes us through urban and personal landscapes. It shows us particular landmarks of New York, as well as a particular New York, one lived through the experience of a speaker that boldly expresses anecdotes of all hues. This is a book about her relationship with a place that has been appropriated into a personal space. The reader is privy to the negotiations that take place in the construction of relationships. Once More with Feeling is an honest and gritty book that invites us to experience the connection between the self, the spaces we inhabit, and the people who share these spaces with us.
PRAISE FOR ONCE MORE WITH FEELING
"To look; to see; to listen as a mind both oscillates and 'readies its key,' using the poem as both portal and tool; to balance a spacious consciousness with the thrum and verve of urban landscape: these are the gifts of Tina Cane's poems. Simultaneously patient in their thinking and dynamically inclusive, these poems of place—the Lower East Side, Hell's Kitchen—with grit and grace navigate through and beyond neighborhood and family, eager for both presence and evolution. Her work, 'every bit of it something/wanting to happen,' both smokes and breathes, 'wanting to do both all the same'—it brings vice, complaint, celebration, and elegy to bear in poems where minor keys blossom into major vision. This is a worthy and moving debut."

—Michael Morse, author of Void and Compensation
ABOUT THE POET
Tina Cane was born in Hell's Kitchen, NYC. She attended the University of Vermont, the Sorbonne and completed her master's degree in French Literature at the University of Paris IX-Nanterre. She is the founder and director of Writers-in-the-Schools, RI. Over the past twenty years, Cane has taught French, English, and creative writing in public and private schools throughout New York City and Rhode Island. Cane's poems and translations have appeared in numerous journals including Spinning Jenny, Tupelo Quarterly, Cargo, Two Serious Ladies, The Birmingham Review and The Good Men Project. She is the author of The Fifth Thought (Other Painters Press, 2008). Cane was the 2016 recipient for the Fellowship Merit Award in Poetry from the Rhode Island State Council on the Arts.
Tina Cane's website: tinacane.ink
Cover image by Pedro Pérez del Solar
The Grill
Translated from the Spanish by Scott Spanbauer, La parrilla by Adolfo Pardo is the account of a young woman detained and tortured during the Pinochet dictatorship. It was originally published in 1981 with the intention of bringing awareness to what was happening in Chile at the time. Now for the first time in English, The Grill, is an important historical document that relates the atrocities of this dictatorship. According to the editor, critic, and essayist Vicente Undurraga, "the story's merit, what gives it interest that goes beyond its documentary value, is its non-accusatory, but instead descriptive nature, and its less ideological and Manichean than human (too human) plot."

PRAISE FOR THE GRILL
"La parrilla [The Grill], Adolfo Pardo's transcription and novelization of a 19-year-old woman's account of her detention and torture under the Pinochet dictatorship, now translated by Scott Spanbauer, is a historical literary document that we are fortunate to have. La parrilla was published and circulated clandestinely in Chile in 1981, and Pardo put himself at great risk to make sure that his story was told: a story of horrific detail; a story of unspeakable pain, shame, and torture that reveals, among other things, how Chilean doctors facilitated the physical, sexual, and psychological abuse of prisoners. This is a story about how a person lives through and survives the vilest of man-made hells, yet the speaker somehow maintains a spiritedness and determination that is itself and act of political force and resistance. This book, which first appeared amid the dangerous silence of repression and censorship, is not just a document of history; it's also a document about how history gets written when those who demand justice and recognition are brave enough to sacrifice their lives so that the most vulnerable of voices will never disappear, will remain present to expose what brutal state governments are capable of doing to their own people."
—Daniel Borzutzky, translator of Country of Plants by Raúl Zurita
ABOUT THE AUTHOR
Adolfo Pardo Armanet is a Chilean writer, editor, and cultural promoter. He is the author of several collections of short stories, including Después del toque (Talleres del Mar, 1979), Inéditos (Talleres del Mar, 1997), and Una biografía distinta (Talleres del Mar, 2009). He is also the author of two novels: Los insobornables (Talleres del Mar, 1997) and La silla de ruedas (Ril Editores, 2007). He wrote and published the testimonial account La parrilla (Talleres del Mar, 1981), whose second edition came out in 2012 with Ocho Libros. During the 80s Pardo published the journals Cuadernos marginales in Chile and Emergencia in France. He is currently the editor of the online magazine Crítica.cl, which he founded in 1997.
ABOUT THE TRANSLATOR
Translator Scott Spanbauer worked for many years as a technology writer and editor, and taught Spanish at the University of Colorado, Boulder. His translation of Uruguayan poet Laura Cesarco Eglin's collection Calling Water by Its Name was published by Mouthfeel Press in 2016. He lived in Santiago, Chile from 1980 to 1981.

Visit Scott Spanbauer's website at Spanbauer.com
Cover image by Daniel Ríos-Lopera
One of These Days
One of These Days by Trent D. Hudley is a collection of short stories that range from the fantastic to the mundane. The book as a whole asks the existential question of how does one create meaning in an ungraspable universe. As the characters struggle to conceptualize their lives, they grapple with violence, environmental issues, and inequality as pertains to race, gender, and socio-economic status. Each character faces different challenges and situations that defy their attempts at apprehending them. Some of the characters, because of their chauvinistic language and view of the world, are condemned to perpetually inhabit the same limited spaces they seek to escape. Others are in search of connections with those around them and with their ability to articulate their desires and identities. However, as Nancy Stohlman points out, "These are not stories without hope; One of These Days is a book striving for redemption."
PRAISE FOR ONE OF THESE DAYS
"Trent D. Hudley is a brave, new writer with great compassion and haunting vision. Reading the stories in One of these Days, we enter the dreamlike gates of purgatory and are witness to great eruptions of sadness, rage, and joy. Hudley's nuanced portraits explore the depths of human psyche and shed light on our limitless capacity for grief and hope."

—Tyrone Jaeger, author of So Many True Believers and The Runaway Note
ABOUT THE AUTHOR
Trent D. Hudley is a professor of English. He teaches in the Creative Writing MA Program at Regis University; he also teaches at Metropolitan State University, and the Community College of Denver. He earned his BA from Metropolitan State University and his MFA from the University of Texas at El Paso. He was raised in Denver, Colorado, and before he entered the world of academia he held a multitude of positions including working in the Denver Post Sports Room, janitor, kitchen manager, painter, cashier, and a multitude of other similar jobs. He lives in Denver in the company of his friends, family, and his daughter.
Cover image by Daniel Barbeito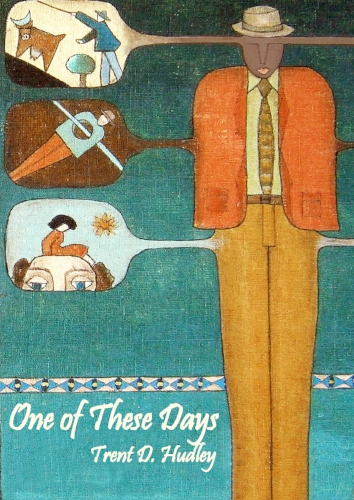 La isla de tu nombre
SOBRE LA ISLA DE TU NOMBRE

"Peregrina en su propio corazón, la voz poética de La isla de tu nombre, nos señala su kilómetro cero, su objeto de deseo; el punto en el que todos los caminos y todas las distancias son abordados y en el cual todos los caminos y todas las distancias desembocan. En esa poderosa reciprocidad sucede una interiorización del tiempo que realmente logra nombrarnos, y en el que lo cotidiano y los objetos, a su vez, nos potencian para nombrar al mundo desde un corazón multiplicado que hace sus conversaciones, pero que también expone sus trazos vulnerables. Un corazón multiplicado es transparente, pero también terrible, como lo es su repentina no brújula, como lo es replegar cada gesto aprendido sobre aquella geografía, y recomenzar desde actos tan simples como cortar una tarta de frutas o ver 'el apasionamiento / del esmalte de uñas que se cae poco a poco', actos que nos hacen reconocer que los objetos y el mundo que convergía en cada uno de ellos, no sólo nos han retirado el habla sino que nos han despojado de todo un lenguaje edificado desde los huesos."

—Claudia Berrueto, autora de Polvo doméstico y Sesgo
SOBRE LA POETA
Gabriela Aguirre (Querétaro, México). En 2003 obtuvo el Premio Nacional de Poesía Joven Elías Nandino con el libro La frontera: un cuerpo, y en 2007 el Premio Nacional de Poesía Enriqueta Ochoa con el libro El lugar equivocado de las cosas. Ha sido becaria del FONCA, del Consejo Estatal para la Cultura y las Artes de Querétaro (en la categoría Jóvenes Creadores), y del Instituto Queretano de la Cultura y las Artes (en la categoría Creadores con Trayectoria). Fue becaria de la Fundación para las Letras Mexicanas en el área de Poesía de 2005 a 2007. Ha sido incluida en diversas antologías de poesía y textos suyos han sido publicados en varias revistas y periódicos nacionales y estatales. Algunos de sus poemas han sido llevados a escena en la obra de teatro "Homenaje a un ciego que abrió los ojos", bajo la dirección de Rodrigo Canchola. Estudió la Licenciatura en Lenguas Modernas-Español en la Universidad Autónoma de Querétaro y la Maestría en Creación Literaria en Español en la Universidad de Texas en El Paso. Actualmente estudia un Doctorado en Artes en la Universidad de Guanajuato.
Cover art by Elva Paulina Kababie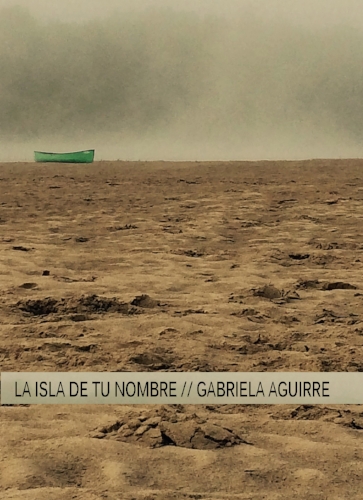 Travelers Aid Society
Travelers Aid Society by Jeff Sirkin is a collection of poems intimately related to music, cities, and the insightful perceptions of a peripatetic speaker. The reader is led through different historical, socio-cultural, and political happenings and contexts by a keen observer. Sirkin reveals treasures in what we might otherwise take for granted and deem as mundane: a conversation at a bar, a plumber at work, cold winters in Buffalo, mornings with family reading the Cincinnati Enquirer, dealing with bureaucracy when crossing the Juárez-El Paso border, the Ohio River in the late nineteenth century, going through LPs, and more. Music appears interwoven throughout the book as a kind of soundtrack, including songs by Billie Holiday, Miles Davis, Bob Dylan, Bing Crosby, among others.
PRAISE FOR TRAVELERS AID SOCIETY
"Jeff Sirkin's Travelers Aid Society charts a wayward swerve off the grid of received United States history lessons, a wanderer defying artificial borders. Whether Cincinnati, Buffalo, or Ciudad Juárez, Sirkin turns a city's artifice aside and confronts its infrastructure instead: machines and the people whose labor operates them. A plumber repairing a drain. A bartender serving last call. These tender-hard (think Gen X punk) poems also document the speaker's own consumer culture, his service economy. Thrilled to travel (post) cities with this keen-eyed poet."
Carmen Giménez Smith, author of Milk and Filth and Odalisque in Pieces
ABOUT THE POET
Jeff Sirkin grew up in Cincinnati, Ohio. He writes on popular music and literature, and his work has appeared or is forthcoming in Mandorla;Forklift, Ohio; Puerto Del Sol; The Volta; and elsewhere. He currently teaches in the Creative Writing Department at the University of Texas, El Paso, where he also co-curates the Dishonest Mailman Reading Series.
Read Jeff Sirkin's blog at: travelersaidsociety.wordpress.com
Cover image by Jennifer Hill
Author photo: Marc Sirkin and Steve Hymon
Touching the Light of Day
Save for the occasional soccer-related news, Uruguay is seldom featured in the media and little more than a name in the minds of most readers. The same happens with the greater part of its writers, very few of whom have been translated into foreign languages. This substantial anthology, drawing from the work of some of the country's most beloved poets, attempts to remedy that omission, presenting a vibrant and luminous selection that takes the reader from lush poems inspired by the classical antiquity to austere and introspective urban pieces deeply rooted in the local culture—with much more in between. Ably and sensitively translated by Laura Chalar, a contemporary Uruguayan writer, and accompanied by insightful introductions by the Uruguayan scholar Gerardo Ferreira, the works in Touching the Light of Day: Six Uruguayan Poets offer an exciting opportunity to visit, via its literature, a country too often overlooked by travelers and readers alike.
PRAISE FOR TOUCHING THE LIGHT OF DAY: SIX URUGUAYAN POETS
"Uruguay, the smallest Spanish-speaking country in South America, has always been blessed with an abundance of poets, but many of them have never or only rarely been translated into English. In Touching the Light of Day: Six Uruguayan Poets, Laura Chalar's wonderfully lucid translations of Julio Herrera y Reissig, Alfredo Mario Ferreiro, Susana Soca, Líber Falco, Pedro Piccatto, and Humberto Megget help repair this great injustice."
Jesse Lee Kercheval, translator of The Invisible Bridge: Selected Poems of Circe Maia
ABOUT THE TRANSLATOR
Laura Chalar was born in Montevideo, Uruguay, where she trained as a lawyer. She is the author of five books. She recently published Midnight at the Law Firm, a chapbook of poetry (Coal City Press). She has also published numerous translations from and into Spanish, including works by Jane Austen and Jules Supervielle. The recipient of several literary awards, Laura is also a Pushcart Prize nominee whose first short-story collection in English is forthcoming.
Cover image by Raquel Barboza
The Dead Will Rise and Save Us
The Dead Will Rise and Save Us by Paul Pedroza is a collection of short stories set in the border cities of El Paso/Juárez with an array of interesting characters, which range from high school students negotiating their identities, homeless characters living in the San Jacinto Plaza, characters that navigate the border between Ciudad Juárez and El Paso, and more. This collection embodies life in the border in many ways, such as the bilingualism of the characters, the socio-cultural elements of the settings, and the tensions between the difficulties and beauty of living in the border region.
PRAISE FOR THE DEAD WILL RISE AND SAVE US
"The Dead Will Rise and Save Us, much like El Paso and the desert Southwest, is hazarded with moral complexity and unforeseen grace. Paul Pedroza's stories, the characters crawling inside them, will not leave you soon after reading. They'll remain beneath your skin and in your bones."
--Matt Mendez, author of Twitching Heart
ABOUT THE AUTHOR
Paul Pedroza was born and raised in El Paso, Texas. He received his M.F.A. in Fiction from the University of Illinois at Urbana-Champaign. His work has appeared in Rattle, MAKE: A Chicago Literary Magazine, Palabra, BorderSenses, Confluencia, Inquiring Mind Buddhist Magazine, and in various anthologies, including Our Lost Border (Arte Público Press, 2013) and New Border Voices (TAMU Press, 2014). Currently, he teaches at New Mexico State University and is completing his first novel.
Paul Pedroza's website: paulpedroza.com
Cover art by Federico Villalba